Port of Rotterdam Wins ESPO Award 2018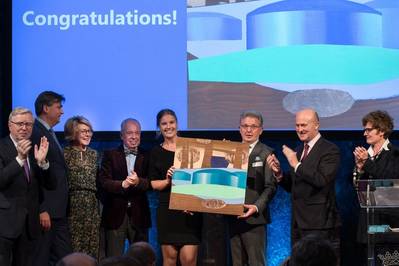 The largest port in Europe the Port of Rotterdam Authority has been awarded the European Sea Ports Organisation (ESPO) Award 2018.

The award was made in recognition of the port's engagement with the city or wider community through the creation of a good workplace environment for its current and future employees and the demonstration of its investment in a diverse and inclusive environment, facilitating mutual respect, non-discrimination and personal development.

The ESPO Award was handed out by the Deputy Director-General of DG Move, Maja Bakran, during a ceremony at "Palais des Académies" in Brussels.

At this occasion, Maja Bakran said: "We truly see the ports at the heart of our transport system and you can count on our continuous support. Congratulations to the 2018 ESPO Award winner: the Port of Rotterdam Authority!"

Chairman of the Jury, Pat Cox, said: "The Jury was especially impressed by the strategic vision, commitment and means by which Rotterdam Port is planning for the future world of work both in its own operations and in partnership with its wider ecosystem."

The Port of Rotterdam Authority won the 2018 Award for its project, "The Port of Rotterdam creates a good working environment for everyone", which focuses on maximising the synergy between the port, the city and the region.

This means giving employees skills matching the needs of companies in the port, providing training for the port's current and future talents, and stimulating co-working between different companies within the port and by employing as many people from Rotterdam and its surroundings as possible in the port.

To reach that goal, the Port Authority has created various initiatives, which can be divided into three categories: School to Work, Work to Work, and Return to Work.

Henk de Bruijn, Manager Social and Labour Affairs at Port of Rotterdam Authority, said: "This ESPO Award is for us the recognition that we are on the right track with our 'People in and around Ports' program. To us, this Award is an extra motivation to take further steps with our social innovation ambitions in and for our port. We hope also to inspire other European ports with our program. We have to do it together."

The ESPO Award 2018 saw four projects from Associated British Ports, North Sea Port, Port of Tallinn and Port of Rotterdam Authority compete for the prize.