Abu Dhabi Ship Building Expands Portfolio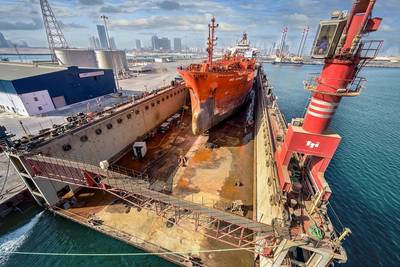 Abu Dhabi Ship Building PJSC (ADSB), a leading provider of construction, repair and refit services for naval, military and commercial vessels, has expanded its customer portfolio to now include chemical tankers. ADSB welcomed its first chemical tanker at the new drydock facility at Mina Zayed, which was commissioned in July of this year.

Mid Osprey, a 140m chemical tanker, is undergoing major repairs including the refurbishment of the ship's accommodation.

ADSB has also installed a high powered robotic washer and hydro blasting unit, a more environmentally friendly and efficient robotics system for hull treatment. It is the first time a shipyard in Abu Dhabi has utilized a robotic hull treatment machine. The installation of the new technology is in line with ADSB's mission to provide more sustainable options for ship repair and maintenance. The new system will replace the copper grid blasting unit that was previously used, eliminating the air pollution caused by copper grid blasting. The new hydro blasting unit was used to service the Mid Osprey.

Dr Khaled Al Mazrouei, CEO of Abu Dhabi Ship Building, said: "We are continually looking for growth areas for our company and expanding our service offering to chemical ships is an excellent example of how we are utilizing our expanded capabilities to grow our customer base. The investment in new technologies also goes hand-in-hand with this growth and through the investment in the new hydro blasting unit, we are able to upgrade our service offering with utilize cutting edge, efficient tools."

The new floating drydock signifies a new phase of growth for the company, as it looks to expand its commercial service offering. The drydock now allows ADSB to service ships that were previously too large to be handled at its headquarters in Mussafah.