Port of Kiel Presents Berth Project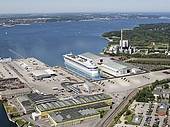 Visual presentation of Cruise Shipping Berth 1 project - PORT OF KIEL at Cruise Shipping in Miami.

Kiel's plan to create a big berth facility for cruise ships is steadily taking on more shape. For the first time, the PORT OF KIEL is presenting a visual display of the new Ostuferhafen Cruise Shipping Berth 1 project to an international audience at the upcoming Cruise Shipping Trade Fair in Miami from March 12th to March 15th. Dr Dirk Claus, Managing Director of the SEEHAFEN KIEL GmbH & Co KG, said "we are investing long-term in the expansion of our capacities. From as early as next year we will also be in a position to handle cruise ship passenger exchanges in the Ostuferhafen". The creation of the Berth 1 facility in the Ostuferhafen means that Kiel will have four terminal berth facilities available for cruise ships, three of them capable of handling big vessels. The future Cruise Shipping Berth 1 will have a quay length of 395 metres on a water depth of 10.5 metres and will have all the facilities needed to process the ships. The handling terminal building for passengers and luggage will cover a ground area of 3,000 m² and will be capable of extension at any time as required. From a transport point of view, the Ostuferhafen has an ideal link to the motorway network. More than 400 long-stay parking places for cars are available directly at the handling terminal along with sufficient parking slots for shuttle buses and coaches.
The capacity expansion is necessary to relieve the city's Ostseekai Terminal which gets particularly busy at weekends during the summer season. "We offer a very attractive overall package", said Dirk Claus. "Even though the new berth is not directly located in the city centre, the situation for passenger exchange business still compares very favourably with that in Copenhagen. The Cruise Shipping Berth 1 will further strengthen our market position", he said. All current and conceivable future ship sizes can be accepted at the Ostuferhafen. The terminal site has plenty of space available and also opens up opportunities to shipping companies for individual company branding.
During this year's cruise shipping season, which will be opened on March 31st by the "AIDAcara", Kiel expects 138 calls by 25 different cruise ships. The most frequent guests will be vessels belonging to the shipping companies AIDA, Costa, MSC and TUI Cruises which regularly exchange passengers in Kiel. Eight cruise ships will call at Kiel for the first time, among them Cunard's "Queen Elizabeth" which is expected at the Ostseekai Terminal on July 24th. Dirk Claus said "the number of ships calling at Kiel with international guests is rising all the time. Marketing ourselves as a tourist destination is a further aspect of our activity at Cruise Shipping in Miami", he added. Working alongside regional tourism officials, Kiel has put together a list of Schleswig-Holstein's tourist highlights which will be presented to shipping companies in Miami.
Kiel is currently the third largest cruise shipping turnaround port in northern Europe. From Kiel attractive routes take travellers to the Baltic's biggest cities, along the Norwegian fiords as well as to the North Cape and England. Last year more than 375,000 cruise ship passengers were recorded in Kiel, which is also a port of call for important ferry lines from Scandinavia and the Baltic region. Every year two million ferry and cruise ship passengers board or disembark in the port. Currently Kiel has three passenger terminals available - at the Ostseekai, Norwegenkai and Schwedenkai - and all are very close to the city centre.