Vice President Pence Visits Naval Air Facility Atsugi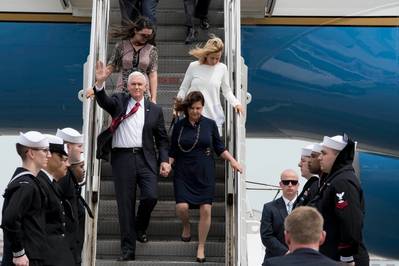 Marking his first official travel to the Asia-Pacific region, Vice President Mike Pence made his first ceremonial stop in Japan at Naval Air Facility (NAF) Atsugi, April 18.
During the Japan portion of his regional visit, the vice president will travel to Tokyo where he will meet with Prime Minister Shinz Abe and lead the inaugural U.S.-Japan Economic Dialogue with Deputy Prime Minister Tar As.
The vice president will also participate in a listening session, followed by remarks to the U.S. and Japanese business community.
Naval Air Facility Atsugi Commanding Officer Capt. John Bushey, from Spencer, Iowa, said NAF Atsugi serving as the inaugural naval installation in Japan to host the vice president on his first official visit to Japan is a great opportunity to highlight the service of Sailors, families and civilians at the tip of the spear, as well as showcase the base.
"We're extremely honored to support the vice president and his staff during his visit to Japan, and proud our Sailors in Atsugi can participate in welcoming him on his first official visit to Japan," Bushey said.
Continuing the administration's commitment to rebuilding the U.S. military and to its alliances in the region, the vice president will tour USS Ronald Reagan (CVN 76) where he will receive a briefing on the U.S.-Japan alliance by U.S. Forces,
Japan Commander
Lt. Gen. Jerry Martinez, and give remarks to Japan-based Soldiers, Sailors, Airmen and Marines, as well as members of the Japanese Maritime Self Defense Force (JMSDF).
During his trip, the vice president will emphasize President Trump's continued commitment to U.S. alliances and partnerships in the Asia-Pacific region, highlight the administration's economic agenda, and
underscore America
's support for our troops at home and abroad.
By Chief Mass Communication Specialist Ben Farone