Pribilof Canyon in Bering Sea Mapped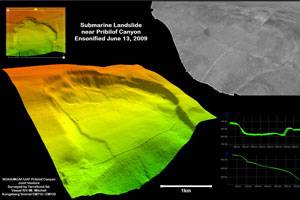 A new high resolution seafloor survey of Pribilof Canyon in the eastern Bering Sea reveals dramatic details of this undersea canyon, and provides information for improved fisheries conservation and management; in particular, provide identification of areas that are potentially hazardous for loss of commercial fishing gear. Previously, only incomplete lower-resolution data were available to describe the morphology of this world-class feature.

Pribilof Canyon is one of a family of huge canyons that play a central role in supporting the rich ecosystem of the Bering Sea. Canyons act as conduits for ocean currents and nutrient rich sediments moving between the deep basin and the shelf. Canyons occupy less than 4% of the world sea floor. They support diverse communities with high biomass and commonly contain unique species assemblages. Despite their potential importance, very little information is available to assess the character and value of the Bering Sea canyon habitats. The new Pribilof Canyon seafloor map will enable systematic investigation of the abundance, and distribution of different habitat types and of the fish that depend upon them.

"There has been much speculation that fisheries are impacting corals or other habitat types in Pribilof Canyon," said David Benton, Executive Director of MCAF. "The seafood industry believes that we need sound scientific information about these resources, which may make up only a small part of these large canyons. A scientifically rigorous mapping program can help identify if such habitats exist, where they are, how much area is covered, and what if any new management measures may be necessary."

An essential element of systematic habitat mapping is a detailed base map that shows the depth, shape, and texture of the seafloor. Geological interpretation of the seafloor map provides insight into the distribution and character of rock, sediment, and potential habitats. The map provides a framework for recording and comparing different types of data, identifying key features and relationships. It will become an essential guide for planning visual surveys and biological sampling.

A consortium of fishing industry, federal, and academic partners collaborated to bring about the Pribilof Canyon mapping project. The project was organized and coordinated by the Marine Conservation Alliance Foundation (MCAF), a diverse group of fishing and community organizations working to promote the sustainable use of North Pacific marine resources (http://www.marineconservationalliance.org/about.html).

The National Oceanic and Atmospheric Administration (NOAA) participated through the Alaska Fisheries Science Center and the National Ocean Service, which conducts hydrographic charting for U.S. waters. At the University of Alaska Fairbanks, the West Coast and Polar Regions Undersea Research Center operates as part of NOAA's Office of Ocean Exploration and Research (OER). These partners variously contributed technical expertise, personnel and funding to accomplish the project.

TerraSond Ltd., a terrestrial and seafloor mapping firm with extensive experience in Alaska, was contracted to conduct the survey operations. Their hydrographers collected multibeam bathymetry and acoustic backscatter data covering the canyon from the shelf edge at 200 meters water depth, to the Bering Sea basin at 2,200 meters. In making the new map, the research vessel R/V Mount Mitchell covered more than 1,200 linear nautical miles. The survey serves multiple purposes, including: (1) identification of areas that are potentially hazardous for loss of commercial fishing gear and creation of marine debris; (2) quantitative measurement of canyon morphology and documentation of habitat characteristics; (3) collection of high-quality hydrographic data for updating NOAA nautical navigation charts; and (4) providing for future research planning, including exploration, observation and targeted sampling of benthic habitats and organisms by human-occupied and robotic undersea vehicles.