Port of Los Angeles APL Terminal Wins Productivity Award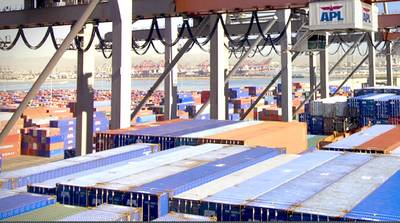 APL''s Global Gateway South Terminal has been awarded the Journal of Commerce Port Productivity Award.
The APL facility in Los Angeles was ranked second among 185 terminals in the Americas according to the inaugural JOC Port Productivity Study which covered the first half of 2013. The APL Global Gateway South Terminal was lauded, for excellence in berth productivity, with outstanding hourly moves between ships' arrival and departure from berth. This in turn reflected the terminal's well-oiled processes and equipment as well as its highly efficient staff.

""Serving our customers safely and efficiently is a top priority at APL terminals worldwide and we are happy for this recognition of the consistently fine work by our Global Gateway South team,"" said Nathaniel Seeds, APL Senior Vice President for Global Operations and Network. ""The JOC Port Productivity Award will serve as a benchmark for APL to improve port productivity throughout our global network.""

Introduced in July 2013, the JOC Port Productivity Study is a global assessment of berth productivity at ports and terminals. The 1H2013 study was based on operating data from 63,500 carrier vessel calls at 690 terminals worldwide.