KNOT Offshore Partners Profitable in Q3 2013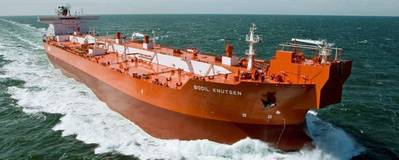 Shuttle tankship owners and operators KNOT Offshore Partners report net income of $6.4 million and operating income of $9.4 million for the third quarter of 2013, as compared to net income of $0.2 million and operating income of $9.1 million for the same period in the prior year.
On November 14, 2013, KNOT Offshore Partners paid a quarterly distribution of $0.4350 per unit with respect to the quarter ended September 30, 2013. This corresponds to a distribution of $1.74 per unit on an annual basis.

The company reports that all vessels operated well throughout the quarter with 98.5 percent utilization (3.4 days offhire). Operating income increased by $0.2 million and finance expenses decreased by $5.0 million in the third quarter of 2013 compared to the third quarter of 2012. The reduction in finance expense was primarily related to reduction of debt, mark to market costs related to prior interest rate swaps being transferred to the Partnership's sponsor, KNOT and loss on currency transactions related to the construction of new vessels.
Although in the short term, production delays in both Brazil and the North Sea continues to cause temporary vessel surplus, the Board of Directors of the Partnership believes that through KNOT there are significant opportunities for growth for the Partnership as the activity in the offshore oil industry continues to be relatively high and, accordingly, the demand for offshore shuttle tankers will over time continue to grow based on identified projects.

The Board stated in the report that it was pleased with the results of operations of the Partnership for the period ended September 30, 2013, which were consistent with expectations for the Partnership's initial operations following the completion of the IPO, and is confident that the Partnership continues to be well positioned to grow its earnings and distributions.