Propeller Club Port and NYMAR Host NYC Harbor Cruise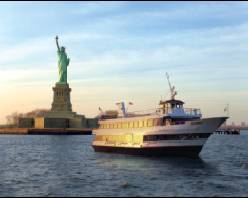 Fundraiser for Japan Relief on May 4th

April 22, 2011—Statue Cruise's M/V Respect will be the venue for a joint Propeller Club and NYMAR 2011 New York Harbor Cruise. Passengers will embark from Battery Park at 6:00 on May 4th for a close up of the spectacular Statue of Liberty, Ellis Island, Manhattan views, dinner and drinks. Proceeds from the event will go to relief in Japan after the recent earthquake and tsunami.

"After a long, cold winter, the maritime community is ready to come out of hibernation and get back on the water," stated Propeller Club Chapter President Carleen Lyden-Kluss. "This cruise will not only provide a taste of summer, but it will also offer dramatic seascapes and hidden jewels of the harbor!"

"NYMAR also wants to provide an opportunity to not only network, but to acknowledge the tragedy in Japan", added NYMAR Chairman Peter Shaerf. "We hope to be able to raise funds to support the relief efforts in Japan, as they continue to recover from the devastation of a few months ago."

The cruise is being hosted by Statue Cruises. In addition to providing transportation to the Statue of Liberty and Ellis Island, Statue Cruises offers a wide range of New York Harbor experiences and Full Boat Charter opportunities: New York Harbor Cruises, Private Charters, Special Event Cruises, and Commuter Ferry Services.

Source: NYMAR