MAN Power & Propulsion Package for New Seismic Vessel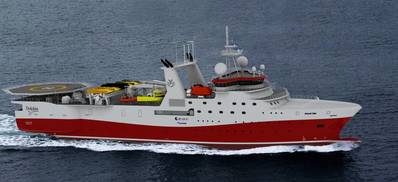 MAN Diesel & Turbo has contracted to supply 8L32/44CR B.2 engines as part of a complete propulsion package to power a seismic vessel ordered by GC Rieber Shipping of Norway.

Four of the engines, along with 2 × 2-speed Flender Twin-In/Single-Out reduction gears and MAN Alpha Twin Screw CP propellers in AHT nozzles, will power the vessel which is classed as Ice Class 1A*.
The vessel design is an ST 324 XT from Skipsteknisk of Aalesund, Norway whose hull will be constructed in Poland with outfitting subsequently carried out at the Myklebust shipyard north of Aalesund. The propulsion plant is scheduled for delivery by May 2014 with vessel delivery following in March 2015.


Expertise in ice has long been a GC Rieber Shipping trademark with an emphasis on delivering customer solutions for demanding operations in sensitive environments where quality, safety and environmental concerns are crucial. These tough requirements also apply to the propulsion plant and according to MAN Diesel & Turbo, the shipyard's previous, positive experience with their engines was decisive in finalising the propulsion package.


As part of the overall deal, MAN Diesel & Turbo is to provide two years of online service and PrimeServLab (stringent quality control for engine operating fluids) on board in order to obtain valuable performance data for seismic high-load operation.


The contract contains an option for an extra vessel.