MAN Hybrid Propulsion Package Ordered for New Trawler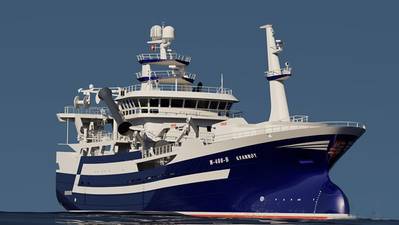 Norwegian shipping company, Nyholmen AS, has chosen MAN main and auxiliary four-stroke engines to power the 'Kvannøy', an advanced, 77.25-m purse seiner/trawler.
The vessel will be constructed at the Karstensens shipyard in Skagen, Denmark and is due for delivery in June 2015. The order represents a continuation of the long-running partnership between MAN Diesel & Turbo and fishing concern Hansen Dahl, Nyholmen's parent company, and the partners have chosen a hybrid propulsion package for the new vessel that features a 600 kW/cyl MAN 6L32/44CR main engine.


The order specifies an MAN Alpha VBS1020 propeller (ø4,200 mm) with an AHT propeller nozzle and an option for a rudder bulb. MAN Diesel & Turbo will also supply its newly developed Alphatronic 3000 propulsion control system, including the ECO Speed Pilot for optimal voyage planning and speed setting.

Two MAN 9L16/24 GenSets (each delivering 940 kWe) will deliver auxiliary power for the hybrid propulsion system, which is a remarkably powerful setup and the first time MAN medium-speed powered GenSets have been employed aboard a fishing vessel of this size.


MAN Diesel & Turbo in Frederikshavn reports that this is the first common-rail main engine to be adopted by the Norwegian fishing sector. The propeller will operate at just 115 rpm at full effect, ensuring an optimal bollard pull when fishing for blue whiting and hake and promoting good sailing characteristics in general. Frederikshavn also states that the potential for further orders is promising with further, similar projects currently pending.