Earth Day: Canada to Protect Ocean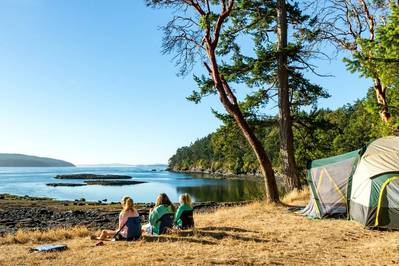 Plastic waste and marine litter pose an increasingly serious threat to our oceans and marine life. Canada is committed to protecting our environment and preserving our waterways, so that all Canadians can continue to enjoy the beauty, health and economic benefits that our oceans, lakes and rivers provide.
The Government of Canada is working at home and with international partners to address this serious and growing problem.
As Canadians celebrate Earth Day,
Catherine McKenna
, Minister of Environment and Climate Change, launched Canada's Dialogue on Plastic Waste to gather Canadians' views on plastics and identify ways we can achieve zero plastic waste and reduce marine litter.
Catherine McKenna, Minister of Environment and Climate Change said: "Plastic products are polluting our oceans and waterways—not just in Canada but around the world. That's why Canada is taking action through this year's G7 and beyond, to keep plastics out of our oceans, waterways and landfills. I look forward to working with our partners here at home and our G7 counterparts and others abroad to make sure plastics are reused and recycled smartly in a way that benefits both our economy and our environment."
In consultation with Canadians, Indigenous peoples, industry, municipalities, non-profit organizations and research institutions, the Government of
Canada will
work with provinces and territories to develop an approach to keep plastics within the economy and out of landfills and the environment.
Canadians are invited to share their ideas for potential solutions in areas such as sustainable design and production (changing how we create plastics to extend their life and eliminate waste), and collection and management (improving how we collect and manage plastics at their end of life).
While marking Earth Day, Minister McKenna also participated in a shoreline cleanup hosted by the Ecology Action Centre, the Friends of McNabs Island Society and Oceans North, in the seaside community of Eastern Passage, Nova Scotia, overlooking McNabs Island and Halifax Harbour. As plastics and other debris pollute shorelines across the country, Canada is encouraging citizens to take the time to care for their local marine areas and coastlines.
Throughout its G7 Presidency, Canada will advance global and domestic action on marine plastic litter and ocean preservation. Canada is working with G7 and G20 countries and others to reduce plastic waste and prevent marine litter from polluting our oceans.
At the cleanup, Minister McKenna launched the G7 Shoreline Sweep Challenge, encouraging Ministerial counterparts from G7 nations to launch their own shoreline cleanup. Canadians are also invited to take part, and to send video and pictures of their own Shoreline Sweeps leading up to World Environment Day, on June 5.