Ship Channel Security District Funds Protection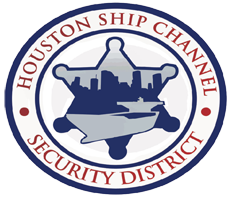 During the annual meeting of the Houston Ship Channel Security District (HSCSD) November 21, public safety, homeland security and police agencies will display infrastructure and equipment funded by the HSCSD used to mitigate threats and protect the Houston Ship Channel. Harris County Sheriff's Office, Houston Police Department and U.S. Coast Guard Houston-Galveston and other agencies will display response equipment outside the Houston Marriott South hotel and give updates on security measures during a news conference.

"What you will see in the parking lot are layers of security currently used to protect our port and petrochemical industry," said Robin Riley, Chairman of the HSCSD. "We will have water, land, air and sensor equipment on display to demonstrate our comprehensive approach to port security and community safety."

According to Riley, the HSCSD provides funding and ideas to regional law enforcement agencies so they can provide unparalleled security to accomplish the goal of protecting the community and safeguarding the region's ability to move cargo through the Port of Houston.

The HSCSD board of directors will hold its annual meeting at 9 a.m. The meeting is open to the public. Robin Riley, Chairman, HSCSD will give opening comments while Dennis J. Storemski, Director, City of Houston Mayor's Office of Public Safety and Homeland Security; Major Michael Wong, Harris County Sheriff's Office Homeland Security Bureau; Captain Brian Penoyer, U.S. Coast Guard – Galveston-Houston will give updates of their efforts working with the Houston Ship Channel Security District. HSCSD board members and Captain Bill Diehl, Houston Port Bureau – HSCSD administration will also be in attendance.

A membership luncheon follows the meeting at 11:30 a.m. Houston Mayor Annise Parker will give a keynote address during the luncheon. Port of Houston Authority Chairman Janiece Longoria will give an overview of port security to kick off the luncheon.