Magnet Provides Robust Holding Force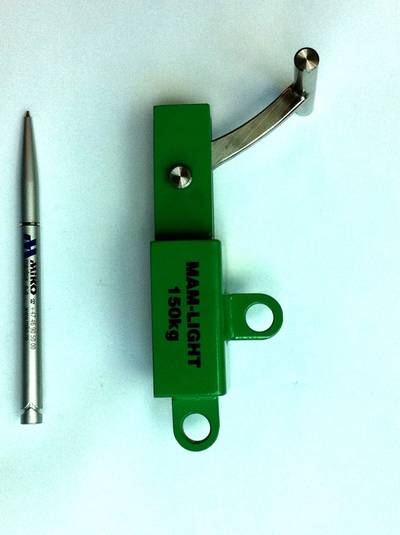 Miko introduces new permanent magnet for robust temporary anchor points above or below water.
Miko Marine AS of Oslo, Norway, has a new lightweight and compact addition to its range of permanent magnets. The MAM Light possesses exceptional magnetic strength relative to its size and this enables it to bring new benefits to divers, boat crews, ROV (remotely operated vehicle) and salvage operators.
The MAM-Light is a powerful permanent magnet that weighs just 1.5 kg yet has a holding force of up to 150 kg. This means that it is easily handled manually or by ROV manipulator and can provide an instant anchorage against any steel structure such as a ship's hull, a wind turbine tower, drilling template or platform jacket. The magnet's eye creates a secure fastening for a wide range of functions such as providing a temporary mooring alongside a ship for boarding parties or excursion boats, a fixing point for instrumentation, oil containment booms or guide and anchor lines for divers.
When it is no longer required a simple lever mechanism is used to break the powerful connection after which the MAM-Light magnet is stored in a double skinned steel box. This neutralises the magnetic field that it generates and prevents it interfering with magnetically sensitive items and makes it suitable for air freight.
Miko manufactures a range of permanent magnets including powerful rare earth versions, magnetic wheels or more standard ferro-magnetic products. Miko magnets are available with a holding force ranging from 35 kg to more than 1000 kg. All are epoxy coated to prevent corrosion and this makes them suitable for use in any marine, offshore or subsea environment.
Miko Marine is also well known for its magnetic patches that have been used on numerous occasions to salvage or prevent the sinking of ships. MAM magnets are frequently used to provide additional adhesion for patches when they are being used during long voyages.