Saudi Aramco's 1st Purpose-Built Jackup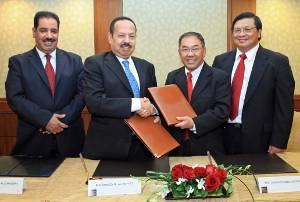 Keppel FELS Limited (Keppel FELS) has secured a contract from Aramco Overseas Company B.V., a subsidiary of Saudi Aramco, to build a customized KFELS Super B Class jackup rig. The contract is subject to a notice from the owner to proceed with construction by May 2010. Upon rig delivery, which is slated in the second half of 2012, the unit will be deployed by Saudi Aramco in the Middle East.

Wong Kok Seng, Executive Director of Keppel FELS, said, "We are pleased to usher in 2010 with a newbuild project for Saudi Aramco. This is an encouraging development, signaling that confidence is gradually returning to the industry."

To date, 31 KFELS B Class rigs have already been delivered with another two under construction. This contract is not expected to have any material impact on the net tangible assets or the earnings per share of Keppel Corporation Limited for the financial year ending December 2010.