Yacht Racing World Match Title for Team GAC Pindar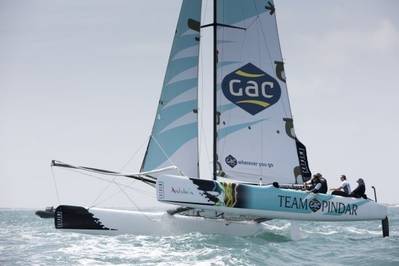 GAC Pindar skipper Ian Williams has clinched his fourth International Sailing Federation (ISAF) World Match Racing title.

It was what everyone had been waiting for, the battle of the giants, Williams vs Hansen, at the exciting climax of the 2012 Alpari World Match
Racing Tour. The team arrived in Malaysia only two and a half points behind the Tour leader Bjorn Hansen with all to play for. The two
world-class skippers had been battling hard all season with Hansen dominating the first part of the year only to see Williams find his stride
and come back with a vengeance.

Williams made history in 2007 as the first British sailor to win the ISAF world title and won another two times in 2008 and 2011. His record four titles now equal that of the match racing legend, Australian skipper Peter Gilmour who announced his retirement only days ago.

Following his fourth World champion title, he paid tribute to Gilmour: "To win the title for a fourth time is indescribable. To match Peter Gilmour is an amazing feeling. He is a legend of the sport and to match that is such an honour."

"This is the second time we've done it back to back, first in 07 and 08 and now 11, 12. Since we put this team together at the start of 2011,
we've won seven or eight events and now we have two world championships in two years – it's incredible."