PMS 1386: First of Two RAstar 3200 Tugs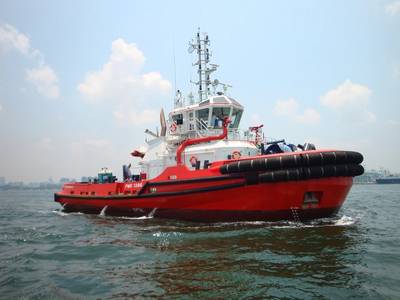 PM Coast Maritime Pte. Ltd. completed sea trials of PMS 1386, the first of two RAstar 3200 tugs to be built by its own shipyard in Singapore.

The RAstar class of tugs is intended for operations in exposed areas such as many new LNG terminals where a high standard of sea-keeping is required. With Fi-Fi 1, oil recovery and escort notations, this particular vessel is able to fulfill a wide variety of duties in adverse conditions.

Particulars of the PMS 1386 are as follows:
Length overall: 32m
Beam, moulded: 12.8m
Depth, moulded (hull): 5.4 m
Summer load line draft: 4.24 m


The PMS 1386 is classed by ABS with the notation +A1, Circle E, +AMS, Towing Vessel, Unrestricted Navigation, +ABCU, Escort Vessel, Fire-Fighting Class 1, Oil Recovery Capability Class 2
Tank capacities are as follows:
Fuel Oil: 189 m³
Fresh Water: 30 m³
Foam: 12.7 m³
Oil Dispersant: 12.7 m³
Recovered Oil/Ballast: 64 m³
Ballast Only: 10 m³
Z-drive Oil: 1.2 m³
Sludge: 4.5 m³
Oily Water: 4.5 m³
Main engine lube oil: 2.9 m³
Hydraulic Oil: 2.9 m³
Sewage: 8.7 m³


On trials, the vessel met or exceeded all performance expectations, with the following results:
Bollard Pull, ahead: 65 tonnes
Free Running speed, ahead: 13.1 knots
The wheelhouse is designed for maximum all-round visibility with forward and aft control stations providing maximum visibility to both fore and aft deck working areas. The deckhouse has Master and Chief Engineer single cabins with en-suite washrooms, a galley, a mess/lounge and able locker space. The lower deck accommodation contains two cabins each for up to four (4) crew, a common lavatory and laundry area and galley stores.

The forward deck machinery comprises a forward escort rated hawser winch, manufactured by Ibersica, capable of recovery speeds up to 40 m/min, pull up to 81 tonnes and with a brake capacity of 200 tonnes complete with integrated anchor windlasses and a warping head. The aft deck is equipped with an Ibersica towing winch capable of recovery speeds up to 67 m/min, pull up to 54 tonnes and with a brake capacity of 175 tonnes complete with warping head as well as tow pins with a roller and hold down block a capstan and a Palfinger 18500M knuckle-boom folding crane with 18.4 tonne metre capacity. A six person capacity 4.4 m long rescue boat with davit is located aft of the wheelhouse but without unduly impacting visibility of the aft working deck from the wheelhouse.

Ship-handling fenders at the bow are comprised of two rows of 800 x400 mm cylindrical fenders. Courses of 300 x 300 mm hollow "D" fender provides protection at the main and foc'sle deck sheer lines, and 400 mm "W" block type fendering is used at the stern.

Main propulsion for each tug comprises a pair of Niigata 6L28HX diesel engines; each rated for 1838 kW at 750 rpm, and driving a Niigata ZP-41 fixed pitch drive unit. Dual modulation Niigata HLP80Y slipping clutches in each shaft line enable variation of prop speed independent of engine rpm for use of the Fi-Fi pumps and deck machinery hydraulics driven off the front end of each engine.

The electrical plant comprises two (2) identical Volvo Penta D7A diesel gen-sets, each with power output of 139 ekW.