Raytheon Nav Systems for German Navy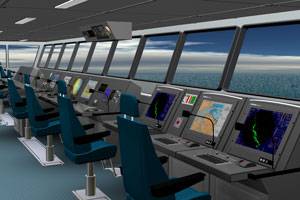 Raytheon Anschütz has been awarded the contract for the complete Integrated Navigation System for the third Mission Supply Vessel (MSV) Class 702 for the German Navy. The third Mission Supply Vessel (2nd Batch) will be built by the consortium ARGE, who have appointed Raytheon Anschütz as the subcontractor for the navigation systems.

The K130 Corvette Project allowed Raytheon Anschütz to install an integrated bridge of the newest generation on board a German Navy vessel for the first time. Because of the similarity to the previous systems on board the K130 and F125, the German Navy will have knowledge and experience which they can directly apply to the new navigation system. The core of the navigation system consists of four multifunction systems that combine the functions, radar, ECDIS, and Conning, to one work station. The radar fuses all of the targets of the different antennas together and makes them available on every screen. Thus the crew can choose between the X- or S-band radar for a 360° view around the ship. Furthermore, the scope of supply also includes the NP2035 Autopilot for high precision track control, the manual steering control system, an inertial navigation platform (MINS) based on ring laser gyro technology, two navigation data distributers, as well as a complete set of navigation sensors and meteorological equipment. An additionally constructed Ethernet Bus joins all of these multifunction systems and sensors together.

As an extra service, Raytheon Anschütz offers individual customer program management, integrated logistic support including Interactive Electronic Technical Documentation (IETD), setting to work and extended testing (FAT with system integration test, HAT, SAT). For the crew, Raytheon Anschütz provides comprehensive training both on land and on board. In regard to the operation and maintenance of the navigation system, the German Navy can greatly benefit from the similarities between the new MSV navigation system and those installed on board the K130 and F125, especially in the area of personnel training and logistic support. One result of this will be a higher flexibility within the crew.

In the next two years, Raytheon Anschütz will deliver their integrated navigation system to the Flensburger Schiffbau-Gesellschaft. The other shipyards in the consortium ARGE EGV are: Fr. Lürssen in Bremen; TKMS Blohm + Voss Nordseewerke in Emden; and the Peenewerft in Wolgast. The MSV 2nd Batch has used the previous operating experience of the older two MSV units to further develop each of the individual board systems.