Erma First Receives BWTS Type Approval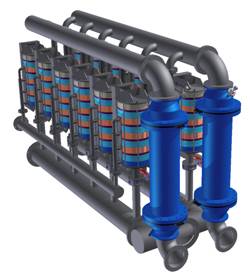 Erma First announced that its Ballast Water Treatment System (BWTS) manufactured by Erma First ESK Engineering Solutions S.A, has received Type Approval according to IMO resolution MEPC.174(58) from the Greek Administration, granted May 11, 2012.
After years of R&D, with rigorous testing performed under strict criteria imposed by reputable European Institutes, such as NIOZ (The Royal Netherland Institute for Sea Research), the system has achieved discharge limits far below the IMO D-2 standards. Erma First Ballast Water Treatment System uses a simple and effective 200 micron self-cleaning pre-filter, a 20 micron hydrocyclone technology exhibiting outstanding performance in very high sediment loads and advanced energy efficient electrolytic cells which provide a perfect combination of:
• Very low footprint in tailor-made, ship-type optimum arrangements,
• Very low Power Consumption,
• Easiness in Installation, with minimized labour & material costs,
• Risk-free operation in all sea conditions,
• Enhanced performance with stable operation even in ultimately high sediment loads,
• Extremely low maintenance and operating costs,
• Simplicity of Operation, on a fully automated functional principle, easy for crew use.
Being already installed on board Containership M/V Cosco Guangzhou, with running orders for Offshore and Mega Yacht Vessels, and in final negotiations for numerous Bulk Carriers and Tanker Vessels in Far East, ERMA FIRST now becomes fully and broadly available worldwide, as one of the best solutions for both newbuilding and retrofits.