Mustang Marine Receives $5.3m Pilot Boat Order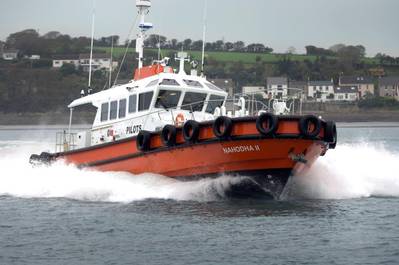 Workboat and marine energy device builder Mustang Marine has won a $5.34m contract to construct three new pilot boats for the Port of Milford Haven.

The Pembroke Dock-based company is now looking to recruit new workers locally in a number of skilled positions to meet an increased demand for its services, having already increased the size of its workforce to 54 people over the last nine months.

The new contact will see Mustang build three 19m pilot boats at its deep-water facility at Pembroke Dock. The vessels, designed by Camarc Design, will have a maximum speed of 14 knots and capacity for 12 persons.

The three new pilot boats are similar in design to the 'Picton' delivered to the port authority in 2008. Mustang Marine has previously built nine similarly designed boats.

The craft are designed to be used extensively in heavy weather, capable of operating in swells up to 5m in wave height, and are expected to withstand 1,000 vessel impacts over a duty cycle of 2,500 hours on average every year.

The contract is one of a number of orders Mustang Marine is currently working on in what has been a busy start to 2015, having completed a broad range of workboat and marine renewable energy device orders over the second half of 2014.

In addition to the three new pilot boats, Mustang Marine is currently building a BMT Nigel Gee wind farm support vessel for Ynys Mon Windfarm Vessels. The firm has also been extremely busy carrying out a number of maintenance and repair works from its five slipways, two of which are covered.