Viking Receives 2,600 bhp MTU Series 2000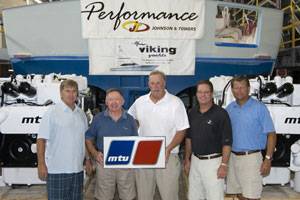 Viking Yacht Company is the first in North America to take delivery of MTU 16V 2000 M94 engines. The first of the 16V configurations, which has a standard setting 2,600 bhp at 2,450 rpm, has been delivered to Viking Yacht Company for installation in a new 82-ft Sportfishing vessel.

MTU distributor Johnson and Towers delivered a pair of the engines to Viking's New Gretna, N.J. facility, where the vessel is being built. According to Johnson and Towers senior vice president Bob Shomo, Viking has been a longtime supporter of MTU's Series 2000 engines.

The new Series 2000 M94 builds on the success of its predecessor engine by offering increased horsepower. Overall engine operation has been optimized with decreased fuel consumption at cruise speed and asymmetric turbocharger compressor wheels creating higher boost pressure at lower engine speeds. The M94 has also been engineered to be a quiet engine, with one of the lowest sound and vibration levels.

The M94 meets international emissions standards, including EPA Tier 2 Commercial and IMO (International Maritime Organization), and comes standard with SOLAS (Safety of Life at Sea) certification. It features double-wall fuel lines, triple-wall exhaust manifolds, water-cooled turbocharger and exhaust routings that keep the engine surface temperatures well below the 220° C guideline set by SOLAS.

The new 82-foot Viking is expected to be ready for sea trials near the end of the year, with final delivery to the customer in early 2010.