DMCA Commends Marine Driver's License Recipients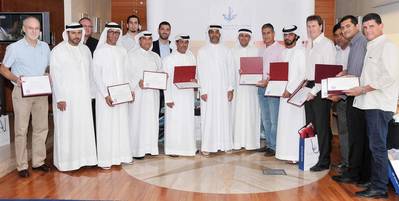 Dubai Maritime City Authority (DMCA), the government authority charged with regulating, coordinating and supervising all aspects of the maritime sector in Dubai, recently congratulated the first 20 recipients of the marine driver's license in Dubai.
The move aims to encourage the society to adhere to best practices that promote safe navigation and maritime safety in Dubai. Recipients of the marine driver's license were honoured during a special ceremony that was held at DMCA's headquarters and was attended by senior executives and employees.

DMCA has started issuing the Marine Craft Driving License for crew on personal, business, sports, tourism and recreational marine craft under Resolution No. 11 of 2013 as part of the implementation of Law No 11 of 2010 for licensing of marine craft in the emirate of Dubai.

Amer Ali, Executive Director, Dubai Maritime City Authority, said: "It is important that we commend the first persons to embrace our leading initiatives that pave the way for creating a safe and sustainable maritime environment in line with international best practices. The marine driver's license is part of the regulations that adhere to international standards and local requirements for the development of the maritime sector in Dubai and to ensure the maximum levels of maritime safety and environmental security, as well as the application of best marine practices in accordance with international standards."

Ali concluded: "Through similar initiatives we look forward to continuing our vital role in strengthening the competitive advantages of the local maritime sector and applying the highest standards of maritime safety and environmental best practices, as well as local and international resolutions that govern marine operations management. The underlining goal is to speed up the transformation of Dubai into one of the leading maritime and commercial hubs globally, as per the directives of our wise leadership."


During the special ceremony, DMCA honoured Saif Khamis Khalfan, Navin Narayan, Ibrahim Matar Ali, Ozan More, Mohammad Ali AlSaleh, Azziz Ben Bakir, Muniasamy Muthu, Ashokbhai Ravjibhai, Abdulrahim Hussain Ahli, Omar Abdelqader Haj Salim Diab, Ali Saeed Mohammad Saeed Bin Thalith, Cidambi Ramesh, Thomas Garcia Riquelme, Sary Abdul Kader Diab, Mico Timotije Peric, Mathew Ficco, Ian Gregory Haines, Jean Bernard You, Kevin Mark Raistrick and Richard John Wallace.

According to the resolution, all applicants must be medically fit and have the theoretical and practical knowledge and expertise to drive light marine vessels, abras and leisure crafts. Crew members on commercial and traditional wooden dhows must be completely familiar with the marine radar and communication systems and navigation maps, in addition to being able to use the various equipments for safety, first-aid, public safety, fire-fighting and water pollution.