GL Bolsters Support of Green Ship Recycling in Asia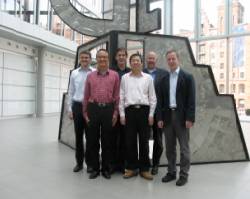 Hamburg/Shanghai, 3 May 2011 - Germanischer Lloyd (GL) has recently intensified its efforts to help shipyards, ship owners, suppliers and recycling facilities in Asia to comply with the forthcoming International Convention for the Safe and Environmentally Sound Recycling of Ships ("Hong Kong Convention"). Two well-trained GL ship recycling experts are now stationed in China and Singapore respectively, offering all stakeholders a full range of services including certification, consultancy and tailored training.

"Asia is not only a hub of global shipbuilding industry but also a centre for ship recycling with actually over 90% of ex-service vessels worldwide dismantled in such countries as India, China, Bangladesh and Pakistan. That is why we will build up our service capability by assigning two technical experts to manage GL's IHM and ship recycling projects in this region," said Mr. Gerhard Aulbert, GL Global Practice Ship Recycling.

The Hong Kong Convention, as assumed to take effect in 2015, will impact upon all new and existing vessels above 500 GT worldwide by a certified "Inventory of Hazardous Materials" (IHM) onboard. "It is very likely for the Chinese shipbuilding community to adopt the Hong Kong Convention as a standard much earlier given that China is one of the most reputable, competitive and experienced shipbuilding nations and many European ship owners are keen to order new vessels from shipyards in line with the latest international standards,'' said Mr. Aulbert.

In terms of ship scrapping, the Hong Kong Convention also creates a new obligation for ship owners to sell their redundant ships only to recycling facilities that meet relevant standards and have been authorized by the national "competent authorities". In Asia, the Ship Recycling Committee has recently encouraged major ship recycling countries to ratify the Hong Kong Convention.

GL has been participating in the development process of the Hong Kong Convention and relevant guidelines by offering its high standard solutions and reliable expertise, which has won GL a front runner status in driving the IHM and ship recycling issues.

Additionally, GL offers a comprehensive approach to help the maritime community address this regulatory challenge. It encompasses certification of IHM for newbuilding and fleet in service, support of its clients in their activities related to IHM and ship recycling, tailored consultancy and training to ship owners, ship yards and authorities involved in this business. These two ship recycling experts will be responsible for delivering quite some of these services to GL's clients in Asia.

Source: www.gl-group.com