Reflective Safety Tape Glows in the Dark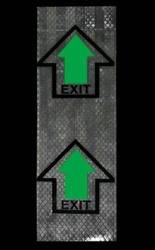 New 3-way safety marking tape from William Frick & Company combines reflective & glow-In-the-dark properties
William Frick & Company introduced EscapeTape™ Safety Tape recently at the 2012 Offshore Technology Conference in Houston.
The 3-way safety marking tape helps people navigate buildings, drilling rigs, cruise ships and office spaces in the dark. It is typically adhered around doorways, along the edges of stairwells or anywhere extra caution should be taken when there is a loss of power.
Once EscapeTape™ is charged by incandescent, fluorescent or natural light, it can glow for up to 24 hours, double the duration of competitors' products.
Thus, ocean-going vessels and rigs are prime candidates for this product. Dark corridors and interior spaces can be drastically improved with the glow-in-the-dark and reflective features when people must quickly navigate them in an emergency.
In addition, the 3-way safety marking tape is designed to withstand high-humidity and sea water exposure. Also, unlike other glow-in-the-dark materials, it does not use any radioactive materials, a safety concern of some end-users.
"Safety is a top concern in the offshore, drilling and energy industries," William Frick & Company President Jeff Brandt said. "We featured this new product at the OTC tradeshow because of the need there for innovative safety products."