F/V Deep Sea Refloated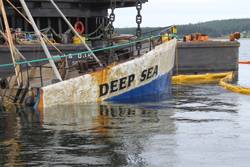 Global Diving & Salvage, Inc. successfully rigged and refloated the sunken 140-foot fishing vessel.

The abandoned and derelict fishing vessel Deep Sea, while at anchor in Penn Cove, WA, caught fire and sank in 60 feet of water. The U.S. Coast Guard and Washington State Department of Ecology (DOE) responded and deployed boom to contain the leaking fuel oil in an effort to protect the world renowned mussel and clam fishery in the cove.

Global Diving & Salvage, Inc. was contracted by the DOE to raise the 140-foot wreck and mitigate the pollution hazard from the cove. Global used techniques and specialized equipment developed over years of performing similar operations along the west coast and in Alaska. Using subcontracted heavy lift assets, Global Diving & Salvage, Inc. successfully raised the vessel, mitigated pollution concerns, sealed leaks in the hull and internal plumbing, stabilized the vessel for tow, and safely delivered it to a drydock in Ballard, WA where the vessel will undergo dismantling and recycling.