Cargo Vessel Refloated after Grounding off St. Thomas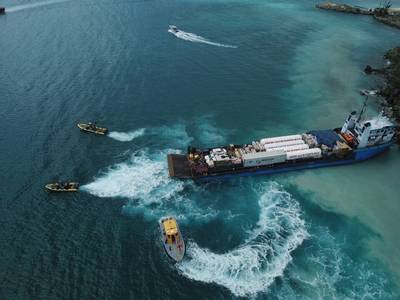 A 223-foot cargo vessel that ran aground Tuesday morning near Charlotte Amalie Harbor in St. Thomas, U.S. Virgin Islands has been refloated, according to local responders.
There were no signs of distress or oil leaking from the vessel, according to the Coast Guard, whose marine casualty investigators were on scene investigating the cause of the incident.
Also on scene was Sea Tow Virgin Islands franchise owner Captain Alan Wentworth, who met with the captain of Ocean Spirit I to assess the situation and determined there were no breaches to the vessel's hull.
Captain Wentworth then had his diver, Captain Anne Allard, perform an underwater survey of the ship, which was aground all the way to mid-ship and was shifting on the rocks. The only visible damage was to the ship's keel coolers.
After speaking with the ship's captain and reviewing the underwater footage, Captain Wentworth decided to wait until the next high tide at 12:50 p.m. to move the vessel.
At noon, a team of three Sea Tow vessels began to move the ship; two triple engine boat pulled from the ship's stern while one
Sea Tow crew
boat pushed the vessel from side to side to help gently guide it off the rocks.
Captain Wentworth's crew and six
U.S. Coast Guard vessels
successfully recovered the ship without any reported injuries or pollution.
Captain Wentworth said the salvage event was not his first in this location. About three years ago, he and his crew recovered another cargo vessel 50 feet away from where the Ocean Spirit I went aground.