Carrier Transicold Introduces Anti-Tamper Refrigerant Seal System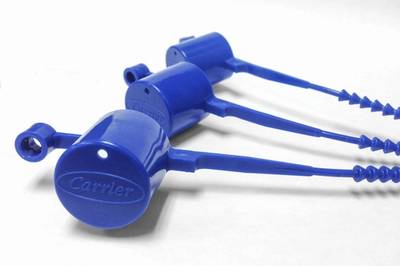 Carrier Transicold's new anti-tamper refrigerant seal system will help ensure a higher level of refrigerant integrity and traceability for container refrigeration systems. Carrier Transicold helps improve global transport and shipping of temperature-controlled cargoes with a complete line of equipment for refrigerated trucks, trailers and containers, and is a part of UTC Building & Industrial Systems, a unit of United Technologies Corp. (NYSE: UTX).


The new anti-tamper system is designed to help prevent unauthorized refrigerants from being used in Carrier Transicold container units, addressing industry concerns about risks associated with unit contamination by improper or counterfeit refrigerants.


Available as a Carrier Transicold-installed option for new PrimeLINE, ThinLINE and EliteLINE container refrigeration units, the system consists of three seals that use a cap and beaded cable tie. Once the seals are securely installed at three critical points on the refrigeration system – the suction, discharge and liquid line service ports – the ports cannot be accessed without breaking the seals.


Made of a robust material suitable for marine applications, the seals are intended for one-time use.


"The presence of all three bright blue seals communicates an immediate message to service technicians that the original factory charge of proper, approved refrigerant has not been altered," said Suresh Duraisamy, senior product manager, Global Container Refrigeration, Carrier Transicold.


Although the anti-tamper system is optional, Carrier Transicold recommends that customers specify it for new equipment purchases.