Rio Tinto Marine Registers Another Ship in UK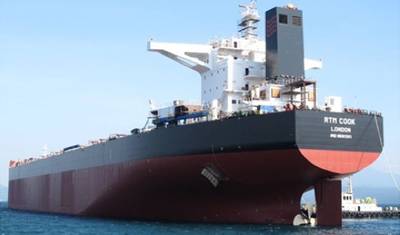 'RTM Cook', built at Hanjin Heavy Industries in Subic Bay, Philippines, first of eight new RTM bulkers to fly the Red Ensign.

Rio Tinto Marine provides services to the Rio Tinto Group to ensure that maximum efficiency is achieved in all of their mine-to-market supply chains, a critical aspect of Rio Tinto's mining business. In 2011 they shipped 160 million tonnes of dry bulk cargo and accounted for nearly 100,000 container movements.

The company has now embarked on a new build programme, with 15 new buildings to be delivered by the end of 2014. The first, in a series of eight being built at Hanjin Heavy Industries and Construction (HHIC) in Subic Bay is RTM Cook which is 106,796 gross tons and sailed from Subic Bay for Singapore and then on to Pilbara for her first cargo of iron ore. She has since been followed by RTM Cartier (delivered in August) and RTM Dampier (in September), with RTM Zheng He due to be delivered in November 2012.

To date Rio Tinto Marine has almost 600,000 gt on the UK Ship Register. Debasis Mazumdar, Head of the UK Ship Register said "I am delighted to welcome these new bulk carriers onto the Register and am grateful to Rio Tinto Marine in choosing to flag with the UK Ship Register".