Report Maps North Sea Wind Regulations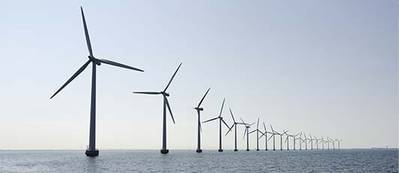 A new report maps the regulations and industry standards applicable to maritime operations in the offshore wind sector of Denmark, the U.K., Germany and the Netherlands.
The report, which was drawn p by DNV GL for the Danish Maritime Authority (DMA), focuses on the need to harmonize the regulations of the offshore wind industry. Harmonized regulations in the maritime area could contribute to the competitiveness of shipowners and eliminate any unnecessary administrative burdens.
The report has mapped the safety regulations and standards that apply when approving ships as well as crew qualifications in the four offshore wind sectors: Denmark , the U.K., Germany and the Netherlands.
Though the report shows that, in several areas, the countries have a common understanding of safety standards, a need to harmonize especially the safety standards applicable to offshore service craft for the carriage of wind turbine technicians was identified. In addition, there is a need to harmonize the industry's own standards, especially as regards crews and wind turbine technicians, for example in connection with the transfer of persons between ship and wind turbine, as well as health examinations and safety training of especially wind turbine technicians.
On the basis of the report, the DMA said it will now engage in dialogue with the industry in order to consider possible measures that could improve the framework conditions of the offshore wind sector by means of a higher degree of harmonization of the regulations and standards applicable to the offshore wind sector in the North Sea.