Container Shipping Line Wins Service & Reliability Award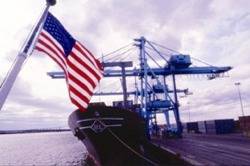 Horizon Lines recieves '2011 Platinum Carrier Award' for the 6th time in succession from Lowe's Company

Horizon Lines, Inc., one of the nation's leading domestic ocean shipping companies, has been awarded the "2011 Platinum Carrier Award" by home improvement retailer Lowe's Companies Inc. Horizon Lines is the only Jones Act ocean carrier to receive a 2011 award from Lowe's for domestic ocean transportation service.
The 2011 award marks the sixth consecutive year that Horizon Lines has received Lowe's Platinum Carrier Award, and the 11th consecutive year that Horizon Lines has been honored with a Lowe's award for providing consistently superior service.
The Platinum Carrier Award for exemplary on-time service and reliability was accepted on behalf of Horizon Lines by Randolph Page, Horizon's Southeast Sales Manager, and Toni Sikes, Business Development Sales Representative. The award was presented by Steve Palmer, Vice President of Transportation for Lowe's, and Mark Ramsey, Lowe's Carrier Relations Manager, North America.
"Horizon Lines is honored to again receive Lowe's highest recognition for domestic ocean service transportation providers," said Brian Taylor, Executive Vice President and Chief Operating Officer. "Partnering with Lowe's is a privilege that we must earn every day, and we are very appreciative of their recognition. This award symbolizes the unwavering commitment and collaborative approach to customer service excellence demonstrated by Randolph Page and the dedicated team of associates at Horizon Lines who strive to ensure a consistently reliable supply chain."