Renaissance Secures GAC Marine Contract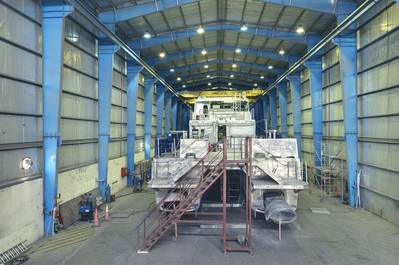 Topaz to complete structural work and outfitting of two crew/cargo vessels.
UAE, Abu Dhabi, 6 February, 2012: Renaissance Services (Muscat Stock Exchange: RNSS) subsidiary Topaz Energy and Marine, a leading provider of offshore support vessels and engineering services, has been awarded a contract from GAC Group to provide completion services for two crew/cargo vessels. Topaz's NicoCraft shipyard in Abu Dhabi has been awarded the contract based on the shipyard's capabilities and established track record.
The construction and engineering works that will be undertaken by the Topaz Marine Engineering Division as part of the contract include structural works, outfitting and equipment installation. Upon delivery, the vessels will be approximately 22 metres long, will carry 24 passengers plus 7 crew, as well as up to 15 tonnes of cargo.
Thomas Bower, Managing Director of the Topaz Marine Engineering Division, commented, "Our first contract win with GAC is further recognition that our combined expertise in the construction and repair of aluminium and steel vessels are truly world class. The shipyard has successfully delivered over 20 vessels in the last 3 years, and has gained international recognition as an efficient and safety conscious operation."
Bower added, "This contract also reaffirms NicoCraft's ability to grow and leverage its credentials beyond regional players, attracting global companies such as GAC to come and build at its shipyard. We look forward to a long-term, collaborative partnership between the two companies."

Topaz Marine Engineering has a strong history of orders from reputable worldwide firms. With more than 200 vessels repaired in 2011 and 10 new vessels under construction or delivered, the company continues to be a leader in the GCC marine sector.