Jacques Cousteau's Calypso Shipped for Renovation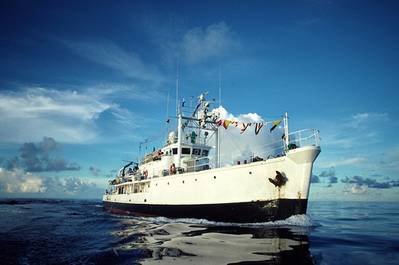 Jacques Cousteau's ship Calypso, star of the "Undersea World of Jacques Cousteau", was loaded on March 14 in Concarneau, France for shipment to Turkey, where the legendary oceanographic vessel will undergo renovations.
From 1951, Calypso sailed the world undertaking scientific explorations until January 8, 1996, when she was involved in a mooring accident and sank. Now raised and once renovated, the Calypso will remain at the service of science and education, as
Jacques Cousteau wished
.
In order for the latest round of renovations to be performed, a team of specialists from CMA CGM freight forwarding and
logistics solutions subsidiary
CMA CGM LOG was mobilized to source a customized solution to transport the vessel to the repair yard.
CMA CGM LOG, working closely with CMA CGM teams, selected and chartered a suitable vessel Abis Dusavik, as the 40-meter, 110-ton Calypso had to be loaded on to a vessel large enough to have two cranes with the power to lift her yet small enough to berth in the port of Concarneau.
CMA CGM LOG also coordinated preparatory steps: the marine railway on which the Calypso was placed had to be customized and strengthened to secure this bespoke cargo.
CMA CGM LOG also managed cargo handling pre-loading and organized the transportations of Calypso's accessories by containers.
On March 14, Calypso was successfully placed inside the vessel for shipment, leaving Concarneau on March 15 to cross the Mediterranean Sea to Turkey, where she arrived on March 25 for renovation work.