USS Porter Repair/Modernization Contract Awarded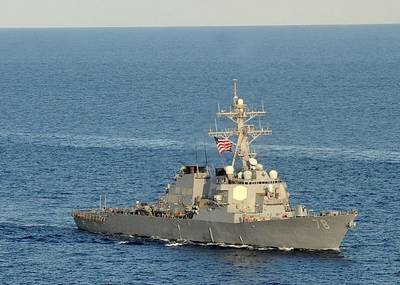 Naval Sea Systems Command awarded a $49,435,634 firm-fixed price contract contract for the maintenance, modernization and repair of USS Porter to BAE Systems Norfolk Ship Repair.

The fiscal year 2013 chief of naval operations (CNO) extended dry-docking selected restricted availability (EDSRA) was competed on a coast-wide basis to maximize competitive pricing and best-value to the government. The scope of work includes damage repairs resulting from the Aug. 12, 2012, collision in the Straits of Hormuz as well as previously planned maintenance and modernization. In order to minimize cost and schedule impacts, the damage repair is being combined with the previously planned CNO availability.

Porter was involved in a collision in the Straits of Hormuz on Aug. 12, 2012. Temporary voyage repairs were completed in Dubai to allow Porter to return to its homeport of Norfolk, Va. in early November 2012. NAVSEA conducted extensive repairs to the damaged ship to ensure its safe passage home, and the ship has been executing a pre-availability continuous maintenance availability since January 2013.

Porter previously had maintenance and modernization availability planned in the spring of 2013 to accomplish bow strengthening, ballistic missile defense upgrades and required maintenance. In addition, the availability will also include permanent repairs to the starboard side of the ship and forward superstructure including the deckhouse steel structure, combat information center and radio room, as well as cables, piping systems, electrical and electronic components that experienced damage during the collision.

The Navy said it is committed to delivering the ship back to the fleet by April 1, 2014 to conduct trials and training prior to the ship's move to its new homeport in Rota, Spain. This move is being conducted as part of the Navy's decision to forward-deploy four Arleigh Burke class guided-missile destroyers to Naval Station Rota in support of the president's European Phased Adaptive Approach to enhance the security of the European region.