British Nuclear Submarine Sets Sail after Fuel Replacement, Upgrading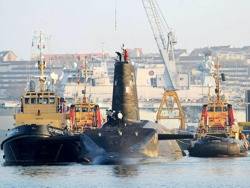 HMS Vigilant sails from Plymouth after replacement of nuclear fuel & upgrade refitting
HMS Vigilant was taken in hand by Babcock in 2008 and is the third Vanguard Class submarine to undergo a long overhaul period and refuel at Devonport.
As one of the
Ministry of Defence
's most complex projects costing over £300m and consuming 2.5 million man-hours of work, HMS Vigilant has been refuelled using a
Rolls-Royce
-designed upgrade to her nuclear reactor which will power the submarine to the end of her life
Additionally, around 80 major design improvements have been incorporated, including significant enhancements to strategic and combat weapon systems and sensors that will ensure the submarine remains highly capable to meet the exacting demands that will be placed on her during her next commission and fulfil her vital role in national defence.
HMS Vigilant witnessed the development of a joint project team and close working relationships between the Defence Equipment and Support organisation, Babcock, Rolls-Royce, submarine staff and a myriad of companies, including many Plymouth area businesses, that have provided specialist technical support.
The joint project team is now focused on finalising the comprehensive sea trials programme that will support delivery of the submarine to the Royal Navy in June this year. This will be followed by intensive sea training by the staff of Flag Officer Sea Training.