Laborde Repowers RO RO Cargo Carriers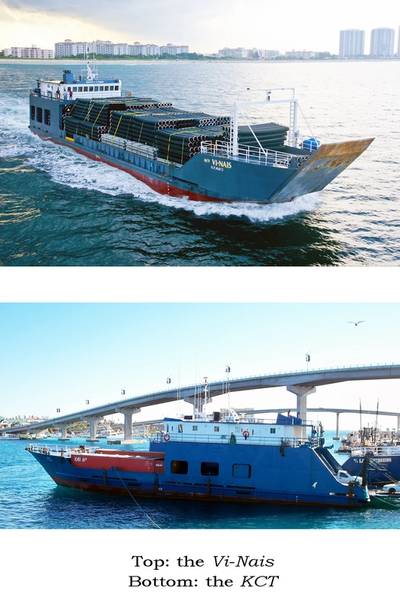 The on-time delivery of freight is something businesses depend on to be successful.
That's why Laborde Products recently put a second pair of Mitsubishi engines in service in Nassau, Bahamas for the Ro Ro Company. This company carries cargo throughout the Bahamas and Caribbean.

The first boat repowered was the 165' KCT, which has a pair of Mitsubishi S6R-Y2MPTK engines rated 630 hp at 1,600 rpm installed. The second vessel, the 190' Vi-Nais, has a pair of S6R2-MPTK2 engines rated 927 hp at 1,400 rpm installed.

Tom Hanna, owner of Ro Ro Company, chose these engines to repower his cargo carriers because Mitsubishi engines are simple, reliable and mechanical. They also provide him with much better fuel consumption than the older engines that he had been operating. It also helped that Mitsubishi offers a nice assortment of horsepower ranges in a 6-cylinder engine.

Mitsubishi's heavy-duty marine propulsion engines are fully mechanical and EPA Tier 3 compliant without the use of complex electronics or any after-treatment. Laborde is the largest Mitsubishi Marine distributor in North America with a far-reaching territory from Texas to Florida and New Orleans to Minneapolis. Mitsubishi engines typically offer larger displacement and more mass than other engines.