OSD Designs Research Vessel for TORI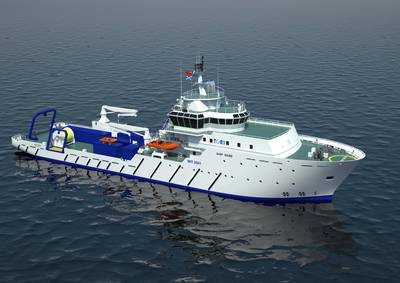 Offshore Ship Designers (OSD-IMT) has signed a new contract to design an IMT2001 Scientific Research Vessel for the Taiwanese Ocean Research Institute (TORI).
The vessel will be used to support long-term oceanographic observation programs, including the operation of unmanned ROVs, terrain survey and mapping, seismic pattern detection, long-core sampling, compiling diagrams of topology and stratum, and performing real-time data processing and sampling within its onboard laboratory facilities.
The IMT2001 will be fitted with two 'A' Frames, two deck cranes, an ROV launch and a recovery 'A' Frame with umbilical winch, streamer winch and gun array and an MEBO200 seabed drilling rig which can conduct core drilling down to 200 m below the sea floor and can be fitted with a range of different deck equipment spreads.
The 76- x 16-meter vessel will have accommodation for 43 persons, including crew and scientists, and will be classed with Taiwanese Classification Society (CR) for worldwide operation. It will be equipped with diesel-electric power generation, two main azimuth propulsion thrusters and two bow tunnel thrusters with the dynamic position notation DP-1
The vessel will be built by Triyards Shipyard in Ho Chi Minh City and is scheduled for delivery in August 2017.