Chief of Naval Research Helps Steer New Tech for the Fleet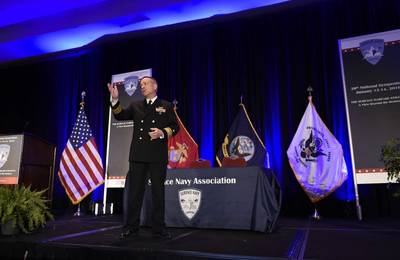 When discussing the Navy's top science and technology (S&T) priorities with military, government and industry leaders, Chief of Naval Research Rear Adm. Mat Winter reflected on his college days at the University of Notre Dame.
"When I graduated from Notre Dame 30 years ago, many of the things that the Navy had in the 'petri dish' back then, so to speak, are being used today throughout the fleet," said Winter. "The big questions we ask daily at the Office of Naval Research [ONR] are 'What's in the petri dish now?' and 'How can we be better about developing tomorrow's technology for our Sailors and Marines?' "
On Jan. 13, Winter gave the keynote address at the
Surface Navy Association
's 28th Annual Symposium, held in Crystal City, Virginia. The symposium featured defense companies, suppliers and military commands exhibiting surface warfare technology and future research and development initiatives.
The theme of this year's symposium was "Surface Warfare Strategy: A View Beyond the Horizon." Keeping with that theme, Winter outlined ONR's mission, organizational structure and goals—and its investment portfolio, which ranges from quick-reaction projects that take as little as a year to implement within the fleet, to long-term research that could pay off big in 20 years.\
"As the chief of naval research, I'm the chief mad scientist of the Navy," said Winter. "At ONR, we discover new and exciting knowledge every day. What keeps me up at night is how to get technology to the warfighter—and how to make the business and execution of science more effective and efficient."