No Restart for ExxonMobil's California Offshore Platforms as Judge Upholds Tanker Trucks Ban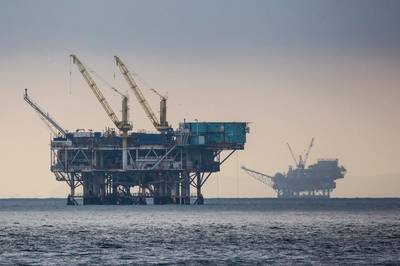 A U.S. judge on Wednesday refused to overturn a California county's decision to block Exxon Mobil Corp from using tanker trucks to ship crude oil from coastal facilities to inland refineries while a ruptured pipeline is fixed.
U.S. District Judge Dolly Gee in Los Angeles denied Exxon's bid to reverse the Santa Barbara County Board of Supervisors' denial of a trucking permit in early 2022, saying the board's decision was substantially supported by evidence that transporting crude oil by tanker trucks could present safety concerns on state highways.
Gee ruled that while Exxon has a right to operate its offshore oil platforms and related infrastructure in the area, it does not have a vested or fundamental right to use trucks to transport its crude while the pipeline system is fixed.
Exxon has claimed it needs to use dozens of tanker trucks a day to ship oil through Santa Barbara County until a pipeline that burst near Santa Barbara in 2015, creating one of the worst oil spills in the region in decades, can be replaced. The company has said trucks are "essential" to restarting three offshore oil platforms and an onshore oil processing facility that have been shuttered since the spill.
Representatives for Exxon and the county did not immediately respond to requests for comment.
Gee's decision did not address Exxon's claims that the board's decision amounted to an unconstitutional taking of the company's property and other constitutional claims. Those claims are set to be considered next by the court.
The decision was applauded by environmental groups that had intervened in the lawsuit supporting the county's decision, including the Sierra Club and local organizations.
Attorney Linda Kropp, who represented several of those groups, said Exxon's trucking plan is "reckless, dangerous and totally unwelcome" and said it puts the community at risk of oil tanker crashes.
Exxon had sued in May 2022, alleging the board's denial was a "prejudicial abuse of discretion." It said the board's majority had essentially made up its mind to reject the application rather than deciding the issue on its merits, resulting in a "de facto ban on crude oil production and transportation."
The company also claimed it has a right to restart the oil production since it had invested significant resources in the area since the 1970s.
When Exxon first halted offshore production from its three Santa Barbara-area platforms, output from those rigs was estimated at 30,000 barrels a day (bpd), a fraction of California's daily crude diet of some 1.7 million bpd at the time.
(Reuters - Reporting by Clark Mindock, Editing by Alexia Garamfalvi and Chris Reese)