Revolutionary Wärtsilä Slow-speed Engine: First Installation Order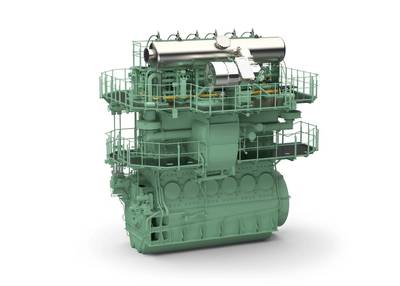 Wärtsilä's new 2-stroke, low pressure, dual-fuel engine has been selected by Terntank Rederi A/S, the Denmark based tanker operator, to power two new environmentally advanced, 15,000 DWT tankers. These will be the first installations of this engine.
The new Wärtsilä technology was recently introduced at a customer event held at the company's Trieste, Italy facilities, and the first engine utilising this technology is the Wärtsilä RT-flex50DF.
The significance of the availability of low pressure, dual-fuel engine technology for 2-stroke engines is that it provides notable economic and environmental advantages over other technologies. The new engine is IMO Tier III emissions compliant in gas mode without need of NOx abatement equipment.

The selection of the Wärtsilä RT-flex50DF engine is a central feature of Terntank's 'Into the future - Baltic SO2lution' project, which is in response to the European Commission's TEN-T call 2013 whereby "Motorways of the sea actions" are identified to promote the sustainability and safety of transport, and to improve either existing or new maritime links. The project supports the development of more environmentally sustainable and energy efficient shipping in the Baltic Sea region, and the building of an LNG infrastructure.

"These newbuild tankers will be among the world's most environmentally sustainable ships, and we are very proud of this. With the Wärtsilä engine technology they are Tier III compliant in gas mode, which of course means that we can operate in the Baltic Sea ECA without restrictions. Moreover, we expect considerable fuel cost savings. Conventional product tankers of this size have an average bunker consumption of 22 to 25 tons a day. With these newbuildings we expect daily bunker consumption of just 14 tons," says Tryggve Möller, Board Member of Terntank Rederi A/S.