RIB Operators Warned After Spinal Injury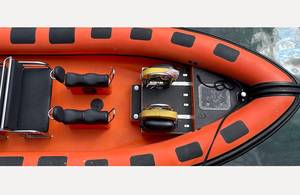 The UK Marine Accident Investigation Branch (MAIB) has issued a safety bulletin for owners and operators of small commercial passenger vessels urging the review of operations, risk assessments and pre-departure briefings in line with current guidance to ensure passenger safety.
Chief Inspector of Marine Accidents, Andrew Moll OBE, said: "Passenger excursions on RIBs should be a pleasurable experience. This safety bulletin, prompted by a serious spinal injury to a passenger on a sea safari, highlights the risks to passengers seated toward the front of boats.
"Owners and operators of passenger excursions, especially on RIBs, should review their operations against established codes of practice and other guidance referred to in the safety bulletin. There should be specific mitigation measures in place to prevent injury to passengers seated in the front third of a boat's length."
Safety Bulletin 3/2023 notes that on June 7, 2023, a passenger on a sea safari RIB suffered a spinal injury that left them paralysed from the waist downwards. 12 passengers had boarded the RIB and, once it was clear of the jetty, the two crew gave them a safety briefing and instruction on the wearing of lifejackets. The RIB then proceeded out to sea and was increasing speed in choppy sea conditions when it encountered a steep-sided wave. The boat fell off the wave and slammed violently into the trough, dislodging the passenger from a seat at the forward end of the boat.
The safety issues identified by MAIB were that there is a significantly higher risk of spinal fractures to people seated in the front area of RIBs, regardless of speed, and seated individuals may have little or no understanding of boat movement or how to mitigate its effects.