Rickmers Maritime Q1 2014 Profit Slips a Little YoY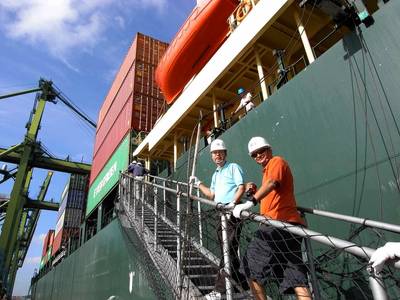 Container ship owners & charterers out Rickmers Maritime describe a stable set of results in the first quarter of 2014. Charter revenue decreased slightly by 4% from the US$35.5 million reported for the first quarter ended 31 March 2013 to US$33.9 million, largely due to the redelivery of two vessels during the period.
In the lead up to their new charters to Maersk Line, the two vessels, Henry Rickmers (formerly Ital Fastosa) and Richard Rickmers (formerly Ital Festosa) spent 19.7 days and 31.3 days respectively as at 31, March 2014 for preparation and positioning.

In addition, the fleet incurred a total of 31.1 days of unscheduled off-hire, with Kaethe C. Rickmers incurring 20.0 days of off-hire due to engine problems. As a result, fleet utilisation for 1Q2014 fell to 94.3%.

Vessel operating expenses increased by 13% to US$9.9 million in 1Q2014 from US$8.8 million in 1Q2013. A considerable percentage of this increase was due to bunker fuel consumed for Henry Rickmers' and Richard Rickmers' positioning voyages to their new charterer and certain expenses incurred due to Kaethe C. Rickmers' engine problems.

Finance expenses, however, were reduced from US$7.0 million in 1Q2013 to US$5.5 million in 1Q2014 as a result of reduced outstanding loan balances and the expiry of interest rate swap contracts. Overall, Rickmers Maritime recorded a net profit after tax of US$9.8 million in 1Q2014, compared to US$10.7 million in 1Q2013.

Dividend
Maintaining a distribution per unit of 0.6 US cents for 1Q 2014, the Trust will distribute US$5.1 million to unitholders. The declared distribution will be paid to unitholders on 4 June 2014.
Outlook
Mr Thomas Preben Hansen, the Chief Executive Officer of RTM, commented, "Whilst the charter market remains under pressure as a result of the persistent over-supply of container ships in the market, Rickmers Maritime's performance has been consistent due to its existing charter agreements
with reputable counter parties."

"As a result of our recent chartering activities, we have succeeded in locking in 98% of our tonnage exposure for 2014, bringing our secured revenue between 31 March 2014 and the expiry of our last charter party contract in 2019 to a total of US$311.3 million. With a number of our existing charter agreements expiring during 4Q 2014 and 2015, the uncertainty surrounding the timing of a charter market recovery poses a risk to the earnings and cash flows of the Trust. To this end, we will continue our chartering activities to ensure the best possible future employment for our fleet of quality vessels."

About the Company
Managed by Rickmers Trust Management Pte. Ltd., Rickmers Maritime is a Singapore business trust formed to own and operate containerships mainly under long-term, fixed-rate time charters to leading container liner companies including CMA CGM, Hanjin Shipping Co. Ltd., Italia Marittima S.p.A., Maersk Line, Mediterranean Shipping Company S.A. and Mitsui O.S.K. Lines Ltd. Its objectives are to offer first class services to its customers, generate stable and growing cash flows and maximise value for its unitholders.