Rickmers-Linie Adds Vessel on Pearl String Service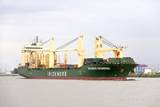 Rickmers-Linie added a 10th vessel on its eastbound Round-the-World Pearl String Service as part of its continuing program of investment in its services. The global breakbulk, heavylift and project specialist has taken the Rickmers Savannah on long-term charter to help it meet customer demand.


The 30,000dwt Superflex Heavy MPC Rickmers Savannah, which was delivered by Jinling Shipyard in November 2010, is identical to the nine vessels of the Rickmers Hamburg class which Rickmers-Linie already deploys on the service: the ships are self-sustaining, with four large cranes, the two heaviest of which can be twinned for a lifting capacity of up to 640 tons. Adjustable tweendecks allow for optimized stowage with variations in cargo height and dehumidifying devices in all holds ensure that cargoes sensitive to corrosion arrive in good shape.


The eastbound Round-the-World Pearl String Service was launched 10 years ago, connecting Europe, Asia and North America. Base ports served in this service are Hamburg, Antwerp, Genoa, Singapore, Bangkok, Ho Chi Minh City or Haiphong, Hong Kong, Shanghai, Dalian, Xingang, Qingdao, Masan, Kobe or Yokohama or Nagoya, New Orleans, Houston, Savannah and Philadelphia. Further ports en route are added according to demand.


The addition of the Rickmers Savannah brings the total number of vessels operated by Rickmers-Linie on regular/long-term basis to 18. Further vessels are spot chartered in case of demand to offer additional sailings within the existing liner services or to cater for special requirements and destinations.


In March 2013 Rickmers-Linie launched a westbound Round-the-World Service, connecting areas of economic growth in Asia and South America and then on to North America, initially operated with 2-3 multipurpose heavy-lift vessels. The America-Asia westbound service established in 2006 now forms a part of this new service.


www.rickmers-linie.com