Metal Shark Delivers Potomac Riverboat Passenger Vessels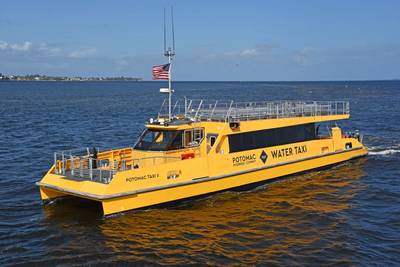 The first two passenger vessels built by Louisiana-based shipbuilder Metal Shark for Entertainment Cruises' Potomac Riverboat Company division have been delivered to Washington, D.C. and are now in service.
The two 88', 149-passenger high speed aluminum catamaran vessels "Potomac Taxi I" and "Potomac Taxi II" departed Metal Shark's Franklin, Louisiana shipyard in mid-September, traveled the Gulf of Mexico coastline and crossed Florida via Lake Okeechobee before proceeding northward up the
Atlantic coast
to Washington, D.C.
Powered by twin Scania DI13 081M engines delivering 500 HP at 1800 RPM, the USCG Subchapter T vessels were designed by BMT Designers and Planners and BMT Nigel Gee, and feature an environmentally friendly low wake / low wash hull design.
Both vessels commenced operations on Thursday, October 12th, with runs from Georgetown and Alexandria to The Wharf in Washington D.C. for a grand opening ceremony hosting Washington D.C. Mayor Muriel Bowser and members of the media.
The new vessels will provide commuters in the Washington D.C. metro region with service between Old Town Alexandria, Virginia; National Harbor, Maryland; and Georgetown and The Wharf in Washington DC. Potomac Riverboat Company parent Entertainment Cruises is the nation's largest dining and sightseeing cruise company, with a fleet of 30 ships operating in over a dozen major US cities.
"From the start, the Metal Shark team has been professional, organized, diligent and skilled. They have done an excellent job of communicating with our team and working together to keep the project on track," said Entertainment Cruises CEO Kenneth Svendsen. "We have been pleased with the workmanship and attention to detail by all involved. Above all else, we can tell Metal Shark has a commitment to process and to doing things the right way."
Scott Smith, VP of Marine Operations for Entertainment Cruises added, "We have a fantastic partnership and working relationship with Metal Shark, and have experienced a very smooth process to build a wonderful product."
"It has been an honor as well as a great pleasure to build these boats for Potomac Riverboat Company and Entertainment Cruises,"
said Chris Allard
, CEO of Metal Shark. "They have been incredible to work with, and we look forward to supporting them with additional on-time deliveries in 2018."
"We commenced construction on these vessels in March and completed them in six months,"
said Carl Wegener
, Metal Shark's Director of Commercial Sales. "Metal Shark continues to build on its hard-earned reputation as an industry leader in the rapid, high quality, serialized construction of passenger vessels."