Robust Dredging on America's Inland Waterways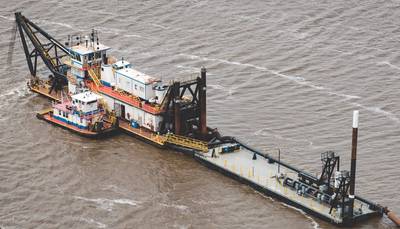 Inland Dredging Company helps keep commerce flowing on America's inland waterway system.
Dyersburg, Tenn. based Inland Dredging Company completed dredging projects spanning eight states and across four U.S. Army Corps of Engineers Districts. Beginning in July and finishing in December (2019), Inland Dredging crews dredged ports and harbors along the Mighty Mississippi River, Ouachita River, Red River, Black Warrior River, Atchafalaya River, Tennessee–Tombigbee Waterway, and the Gulf Intercoastal Waterway from Apalachicola to Morgan City.
Richard Jackson, Inland Dredging's Executive Vice President and Chief Operating Officer, commenting on the successful completion of dredging operations, said, "We enjoyed a productive 2019 completing projects in eight different states for four Army Corps of Engineers' Districts." He continued, "Inland serviced ports and waterways in Kentucky, Missouri, Tennessee, Arkansas, Louisiana, Mississippi, Alabama and Florida."
On the U.S. Army Corps of Engineers side, Jackson said Inland Dredging's primary customers included the Memphis, Vicksburg, New Orleans and Mobile Army Corps Districts. Within those Districts, "we dredged waterways to help hundreds of stakeholders including public and private sector port authorities, harbors, importers, exporters, farmers and railways," he said.
Vickie Watson, operations project manager for the Memphis District, said the contract is for the rental of a fully operated hydraulic cutterhead dredge and attendant dredge plant, including discharge pipeline. Bid items include rental by the hour, towing upstream and downstream by mile, and mobilization and demobilization.
"Every harbor was affected by the high water, but because we have dredged every year over the last four years, it was easy to remove the sediment that was placed," Watson noted. "We didn't have any flood-related damages in our harbors, and that's because of the maintenance work we do every year."
Inland Dredging used the dredge Integrity, a 24-inch cutterhead dredge, along with two tugboats, several barges, new pipeline and a supply boat. Tim Dyer, project manager at Inland Dredging, said the they made modifications to the dredge in order to perform the work. Inland Dredging built an idler, or extension barge, that allowed the dredge to swing wider channels. The dredge is also outfitted with a sliding spud to propel the dredge forward, instead of swinging side to side. The retrofitting of the vessel was performed at Inland Dredging's Mt. Vernon, Ala. ship and repair yard.
"These harbors serve as vital links to rail and highway transportation systems in the region, helping to deliver products and commodities to and from global markets," Army Corps' Watson explained. "Without regular maintenance dredging, barges eventually couldn't make their way up and down the river and in and out of the harbors as needed – this is why we dredge and why it is so important to do so."
U.S. dredging companies do it all. Dredging Contractors of America dredgers make sure America's inland river system is dredged and cleared, ensuring the movement of commerce. American dredging companies are always reinvesting in new equipment with capital investment and securing of fixed assets. Inland Dredging Company is another shining example of America's dredging industry at its best.

(Photo: Inland Dredging Company)
Inland Dredging 2019 Work Scope
Hickman, Ken. with Hickman-Fulton County Riverport serves as the only public port on the east side of the Mississippi River in Kentucky. This port is located on the lower Mississippi at mile 922 in the Elvis J. Stahr Harbor.
Caruthersville, Mo. - Pemiscot County Port Harbor is located at mile 849 on the Lower Mississippi River between St. Louis and Memphis, Tenn. and connected with the Pemiscot County Port Authority.
New Madrid County Port Authority, Mo. Typical commodities include milled rice, fertilizers, environmentally Safe Nitrogen (ESN), coke, corn, other agricultural and dry bulk commodities such as cotton seed and rock/gravel.
Tiptonville/Port Cate's Landing, Tenn. Is considered the nation's newest multimodal inland port, and the deepest dredged harbor on the Mississippi river between St. Louis and Baton Rouge, La.
McKellar Lake, the Port of Memphis, encompasses approximately 127 operating entities, including major employers as diverse as Mitsubishi, Nucor, Valero, Cargill/Nouritech, TVA, CN Railroad, Electrolux, and Seacor AMH. The port is under the jurisdiction of the Memphis and Shelby County Port Commission.
Port of Osceola, Ark. on the Mississippi River. The terminal's major commodities are soybeans and corn.
Port of Helena Harbor, Ark., resides withing the Helena Harbor Industrial Complex ND located on the Mississippi River at mile 652 AH.
Port of Yellow Bend, Ark. is located directly on the Mississippi just south of Arkansas City.
Port of Vicksburg Harbor, Miss., which annually handles 14 million tons of freight, is considered the 15th largest port in the country. It handles commodities including metal, steel, aluminum, ores, wood chips, pellets, paper, chemicals, phosphate and fertilizer, grains, beans and meal.
Port of Greeneville, Miss. specialty involves dry bulk commodities such as liquid fertilizer and grain.
Port of Rosedale Harbor, Miss. is located at the junction of the Mississippi and Arkansas Rivers. This port handles commodities including coil rod, coil steel and cottonseed and other dry bulk commodities including grain, soybeans, rice, winter wheat and corn.
Port of Columbus (Lowndes County Port), Miss. handles commodities including carbon scrap, pig iron, HBI, DRI and ferro alloys.
The Port Lake Providence, La. is considered Louisiana's largest inland port operating as a high-capacity agricultural niche port.
Port of Lake Charles, La. is the 12th busiest port in the U.S. Its major commodity is crude oil, while the major export is bagged food aid for the world. Other commodities include petroleum coke, calcined petroleum coke, limestone, ceramic proppants, anode butts, gasoline, diesel, jet fuel, caustic soda, styrene monomers and a variety of other combustibles.
Madison Parish Port, La. handles aggregates, lime, dry and liquid fertilizer, cottonseed, grain and steel.
Morgan City, La. is located at the confluence of the Atchafalaya River and the Intracoastal Waterway at GIWW WHL Mile Marker 95. There are 200 private dock facilities located in the Morgan City vicinity equipped with barge-mounted cranes with capacities to 5,000 tons, track cranes to 300 tons, and mobile cranes to 150 tons
Panama City, Fla. at the Pensacola Naval Air Station –known as the initial primary training base for all U.S. Navy, Marine Corps and Coast Guard officers pursuing designation as naval aviators and naval flight officers.
Port of Jackson, Ala., located on the Tennessee–Tombigbee Waterway, services barged goods.
Port of Tuscaloosa, Ala. is located on the Black Warrior River in the area of west-central Alabama that is called West Alabama. The primary products that are transported are dry bulk commodities such as coal and coal coke.