Rolls-Royce First Prop for Queen Elizabeth Class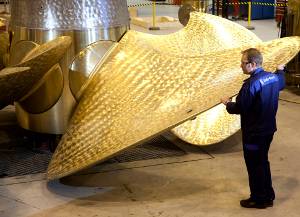 Rolls-Royce, the global power systems company, has completed two significant milestones for the Royal Navy's new aircraft carriers, Queen Elizabeth and Prince of Wales, with completion of the first propeller and the successful testing of the vessels' first MT30 gas turbine.

The propeller, measuring almost seven metres in diameter and weighing 33 tonnes, has completed acceptance tests at the Rolls-Royce facility in Kristinehamn, Sweden. The Kamewa Adjustable Bolted Propeller is manufactured from nickel aluminium bronze and features five blades mounted on a central hub – there will be two on each of the aircraft carriers.

Rolls-Royce is also supplying shaft lines which will link each of the vessels' two propellers with the power source. Each propeller will deliver around 50,000 hp – the highest power Kamewa propeller ever developed by Rolls-Royce.

The first of four MT30s for the two 65,000 tonne vessels also passed a program of stringent tests and certification at the Rolls-Royce Marine test facility, in Bristol, where the gas turbine was operated across a range of load conditions up to the maximum power output of 36MW.

Rolls-Royce is part of a sub-alliance team comprising Thales, Converteam and L-3 and has overall responsibility for delivery of the entire power and propulsion system.