Romania Asks to Check Ukrainian Canal Dredging in Sensitive Danube Delta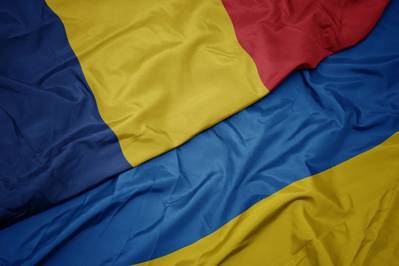 Romania said on Monday it was concerned by signs that neighboring Ukraine was dredging a canal that sliced through a shared, ecologically sensitive coastal region, and asked if it could check the site.
Ukraine has been transporting grain on the Bystroe canal as it develops alternative routes for its exports while access to its Black Sea ports is limited by Russia's invasion.
Romania has said it is concerned that any works on the waterway through the shared Danube Delta area could threaten wildlife in the UNESCO World Heritage Site and break international environmental protection treaties.
"The Ukrainian ambassador will be at the (Romanian) foreign ministry today where he will be asked to allow Romanian authorities to verify the works in person," Romanian Prime Minister Nicolae Ciuca said on Monday.
"Let us verify and confirm, we cannot confirm the data until we are on the canal."
Ukrainian authorities did not immediately respond to a request for comment.
On Saturday, Romanian news website G4Media quoted Ukraine's embassy in Romania saying that dredging was part of periodic routine works.
On Friday, Ukraine's infrastructure ministry said on Twitter that the draft of ships passing through Bystroe had deepened to 6.5 meters from 3.9 meters.
"It's a great opportunity to Danube river capacity and ports' export turnover," the ministry said on Twitter. "We keep developing Danube port cluster with our European partners."
The Danube Delta, one of Europe's most biodiverse regions, where the river Danube meets the Black Sea, lies mostly in European Union state Romania, with a smaller part across the border in Ukraine.
Danube river access to the Black Sea became key for Ukraine, one of the world's leading grain and oilseed exporters, following Russia's blockade of the ports during what Moscow calls its "special military operation".
With limited access those Black Sea ports, Ukraine has had to export grains through its neighboring countries by rail, road or river barge. Exporters shipped 8.6 million tonnes of Ukrainian grain through Romania's Black Sea port of Constanta last year, the port authority said.
To cope with high demand, Bucharest approved Ukraine's request to use Bystroe canal last year to send grain barges to the Black Sea on a temporary basis.
Ukraine first started expanding its shipping canal through the Delta in 2004 without formally notifying Romania. The works were ultimately halted after drawing criticism from the European Union, the United Nations and environmental groups.
(Reuters - Reporting by Luiza Ilie; Additional reporting by Pavel Polityuk; Editing by Andrew Heavens)