Offshore Living Quarters Heavy Lift: Rotterdam to Korea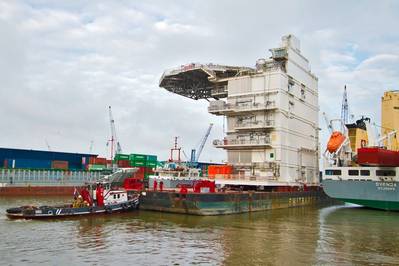 SAL's heavy lift ship 'MV Svenja' loaded the extra heavy oversized cargo to a tight time-schedule and is now bound for the DSME shipyard in Geoje, S. Korea.
MV Svenja loaded the 1,425 mtons unit measuring 42 x 37 x 36 m with a total 54,353 cbm volume in the Port ot Rotterdam to a tight time schedule that allowed just two weeks planning and preparation for the carriage.
Tailor-made equipment had to be designed, manufactured and certified. The vessel's standard equipment had to be adapted to this unique job: amongst others, the traverse had to be rigged and fastened at a certain angle and for this purpose, various grommets with different lengths needed to be ordered and certified. 

After loading the living quarter from barge into the hold, MV Svenja departed as planned with the huge cargo stowed in an open hatch and an overhang of 20 m for the voyage to the Geoje, Korea, shipyard.