Rotterdam Subsea Cable Centre Set Up by NKT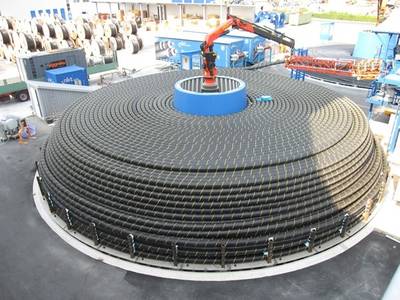 NKT Cables has established a submarine cable Logistics Centre, with a 9.000 and 4,600 tonne turntable capacity at Rotterdam's deep-water port in the Netherlands.

The company informs that with its unique cable splicing technology, NKT Cables can connect long single cable lengths together to form extra-long continuous submarine cables, enabling load-outs of up to 6,000 tonnes - and even more - in one campaign to any cable laying vessel.

Extra-long lengths up to more than 30 km of submarine cable have been produced and loaded in a single, continuous length from the new site in Rotterdam. The cable sections are transported from the NKT factory in Cologne by a special barge lighter.

The site in Rotterdam is designed to serve ongoing European wind farm evolution with high and medium voltage submarine cables throughout the year, and is able to secure on-time deliveries to any barge or sea-going cable-laying vessel.

The manufacturers inform that customers of the facility include Energinet.dk, DONG Energy, 50Hertz Transmission and Tennet (project Randsdtad380).