Russia Hits Ukrainian Port Facilities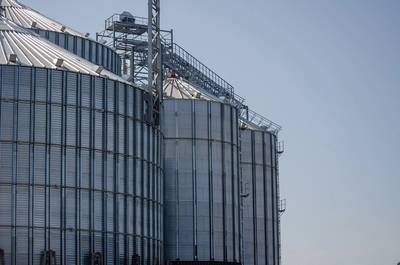 Ukrainian officials said Russia struck Ukrainian port infrastructure and grain storage facilities on Tuesday, but also reported some progress on the front lines in the three-month old counteroffensive by its forces.
President Volodymyr Zelenskiy spoke of "good details" from the front without further explanation and said Ukraine clearly understood where to apply pressure to make it felt in Moscow.
"Sanctions are not enough. There will also be more of our own Ukrainian actions against the terrorist state," Zelenskiy said in his nightly video address. "As long as Russia's aggression continues, Russia must feel its losses."
Ilia Yevlash, spokesperson for forces in the east, told national television that Ukrainian troops had "enjoyed success" by villages near Bakhmut, a key town seized by Russian forces in May after some of the heaviest fighting in the 19-month-old war.
A spokesman for troops in the south, Oleksandr Shtupun, told the news site Espreso TV that Ukrainian troops were digging in and poised to move on the village of Verbove as part of their advance to the Sea of Azov. Russian troops were bringing in reserves.
"I believe we will soon have good news," Shtupun said.
Overnight strikes on the Danube
Two hours of overnight Russian strikes focused on the grain exporting district of Izmail, Ukrainian officials said.
Oleh Kiper, governor of the southern Odesa region which includes the Danube River ports of Izmail and Reni, said a border checkpoint building, storage facilities and more than 30 trucks and cars were damaged, and that two people had been hurt.
Ukraine's military said operations at an international checkpoint were suspended. Vehicles were temporarily rerouted.
The attack was the latest on grain and port facilities since July, when Russia quit a deal that had ensured safe Black Sea Ukrainian grain shipments to combat a global food crisis.
Ukraine, a major global grain producer and exporter, has since stepped up exports via the Danube.
"The enemy targeted the port and border infrastructure of the Danube," the general prosecutor's office said, publishing photos of wrecked grain silos and burning trucks. "Two truck drivers were injured as a result of the attack. Granaries, administrative buildings and freight vehicles were damaged."
The military said 26 of the 38 Iranian-made attack drones launched by Russia at Ukraine overnight had been shot down.
It said that in addition to the Odesa region, the Mykolaiv region, Kherson and Kirovohrad regions had also come under fire.
According to local prosecutors, 12 people were injured in Kherson region as a result of several Russian attacks.
A Russian missile strike also damaged a local enterprise in the southern city of Kryvyi Rih, its mayor said, and the governor of the central Cherkasy region said an unspecified infrastructure facility had been hit.
There were no reports of deaths in the attacks.
Kyiv has hit back with a growing number of attacks inside Russia and Russian-occupied Crimea. In June, it launched a counteroffensive that it says is gradually making gains in areas occupied by Russia in southern and eastern Ukraine.
The governor of Russia's Kursk region said power had been cut off to about seven settlements in the latest reported attack. Russia's defence ministry said a drone had been destroyed over Kursk region at around 5:30 a.m. (0230 GMT).
Reuters could not verify reports by either side.
(Reuters - Reporting by Anna Pruchnicka, and by Lidia Kelly; Editing by Timothy Heritage, Alison Williams, Ron Popeski and Bill Berkrot)