CleanBallast Ready for Russian-Flagged Vessels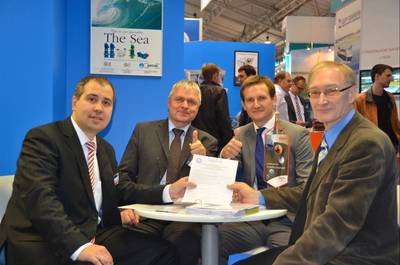 RWO's ballast water treatment system received RMRS Type Approval.


Classification society Russian Maritime Register of Shipping (RMRS) has issued a type approval certificate for the RWO ballast water treatment system CleanBallast. During the international exhibition NEVA in St. Petersburg, Victor V. Grishkin, Senior Principal Surveyor at RMRS, handed over the certificate to RWO. CleanBallast can now be installed on any Russian-flagged vessel. The modular ballast water treatment system can easily be integrated in existing on-board processes and systems and is thus applicable for new builds as well as retrofittings; the components can be arranged to suit the available space and piping layout of ballast water systems.
Currently, RWO has 47 CleanBallast units in its order book, and as of end-September 30 CleanBallast installations had been successfully put into operation. The start-up of most of these units took place in China and were tested here with water from the Yang-tze river, one of the most difficult ballast waters in the world. CleanBallast is thus one of the very few ballast water treatment systems that exist not only on paper and is type-certified, but can also demonstrate long-term commercial operation experience – at present with over 33 years of cumulated successful operation in commercial use!
RWO GmbH is a leading supplier of systems for water and wastewater treatment aboard ships and offshore platforms, and has been a reliable partner of the maritime industry for more than 35 years. RWO's network of more than 40 qualified sales/service stations established throughout the world ensures customer benefits from short communications links and rapid response times.