Sandy Hook Pilot Killed in Boarding Accident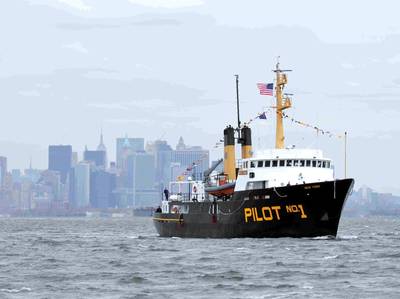 A Sandy Hook Pilots Association captain died from injuries suffered during a boarding accident on Wednesday.
Capt. Timothy Murray reportedly fell from a pilot ladder while boarding a tanker inbound to the Port of New York & New Jersey at approximately 10:30 p.m., the pilots association said in a statement. Murray was evacuated to a local hospital, where he died from the injuries.
The U.S. Coast Guard is investigating the incident.
The Sandy Hook Pilot Associations provide pilotage services to vessels entering or departing the Port of New York/New Jersey, the Hudson River, the East River, Atlantic City, Jamaica Bay and Long Island Sound.
Murray had been piloting vessels in and out of the Port of New York & New Jersey for over eight years. He is survived by his wife and five children.
Murray is the second Sandy Hook pilot to be killed on the job within less than a year. On December 30, Capt. Dennis R. Sherwood died after falling from an accommodation ladder while boarding a containership inbound to the Port of New York & New Jersey.